The warmer months mean we can benefit from saving energy and electricity by being able to hang our washing up on the line, allowing our clothes to air dry and catch the outdoor spring and summer breeze. But, what is the best washing line rope to use? Well, let's take a look at the great variety of clothes lines.

Stretchability and length

First off, when choosing a washing line rope, you need to make sure it has great stretchability because it will be taking the weight of heavy wet clothes. When clothes dry on the line, they lose a lot of weight, and so the line will be gradually moving throughout the day. Not only that, you need to make sure the line has good length to hold your load. Of course, it depends on the size of your garden. If you can't get enough length across your garden – either vertically, diagonally or horizontally – you could hang up a few washing lines.

Let's go through the different materials.

Natural washing line ropes

If you're into more organic and natural resources, you can get washing line ropes made in jute and cotton.

Cotton clothes lines

Cotton clothes lines are one of the softest to touch and are super friendly on clothes. And just because these are the softest of the washing line materials, it doesn't mean they are weak. You can get cotton clothes lines with synthetic cores to give better strength and durability, as well as weatherproof cotton clothes lines.

Jute clothes lines

Jute clothes lines are incredibly thick with jute cores and are made from plaited, organic jute fibres. The jute core and plaited construction make them hard-wearing, even when wet. A jute washing line rope is another option for a natural and traditional clothes line.

Natural washing line ropes are the most sustainable, eco-friendly and biodegradable option. For versatility, they can be used for a range of DIY home projects, pulley systems and handy uses.

PVC washing line rope

With PVC washing line ropes, you get more variety with the option for colourful lines – from grey PVC clothes lines and Kleenwash white PVC clothes lines to orient coloured PVC clothes lines. They can afford to be constructed to a thinner line because of the material and are extremely durable. The PVC outer means they're super easy to wipe and clean, so if you're not wanting to worry about ruining or dirtying your washing line rope, these work wonders.

Retractable washing lines

A retractable clothesline kit is perfect for those who don't want any fuss. You simply mount them to the wall and can rely on them to neatly tuck away the washing line when you've done with it. The plastic casing comes with a steel hook, wall bracket and instructions, so you'll have everything you need to install it straight away.

Steel-core washing lines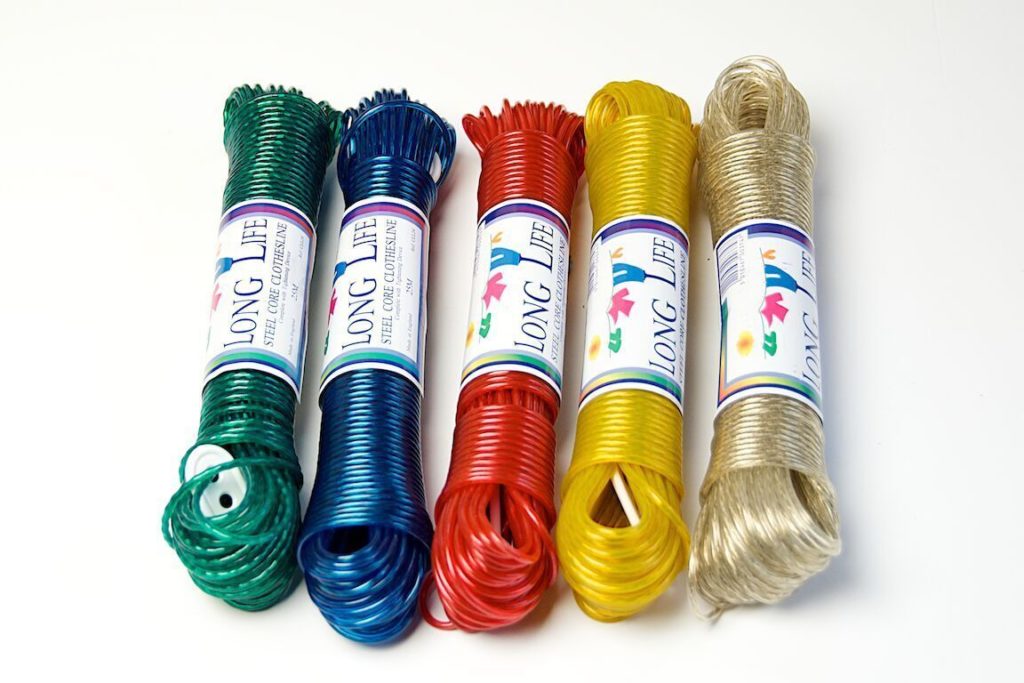 Steel-core clothes lines can come in a range of colours, with white, blue, green, red, yellow and beige. The clue is in the name, as this type of washing line rope gives extra support and strength because of its steel core. The hard-wearing outer can be cleaned with a simple wipe.

Polypropylene washing line rope

With speckled styles and a range of colours – with purple, green, red, yellow, blue and white – polypropylene clothes lines can work with so many different gardens. It's the polythene fibres plaited in a strong construction that make these super resilient, hard-wearing, and water and rot proof. The durable cord material also makes it a versatile line that can be used as a pulley line or for general tying applications.

Alternatives to standard washing lines

If you don't have a lot of space for a traditional washing line, a rotary dryer can work brilliantly, and you can always add in a rotary replacement line
A ceiling airer can be used indoors whilst allowing clothes to dry naturally by hanging
Another drying tool for indoors is a concertina clothes airer, which can also save on energy bills by allowing clothes to dry naturally. They can be easily folded up and put away
Deciding on the best washing line rope is all about personal preferences and factoring in your household and space. If you're no fan of plastic or PVC materials, then the natural washing line ropes are for you. If you need something that's easily put away, the retractable kit is ideal. If you want a washing line that's easy to clean down and that can take the weight and be super durable, the PVC or steel-core lines do the job.

To discuss lengths, colours and preferences, contact our friendly team at Rope Source; we know a thing or two.